Let's talk about Zombie Fighter. This five piece thrash band has been laying waste to audiences all over the New England area since forming in 2010. With the release of their debut EP Run For Your Life, Zombie Fighter aim to expand their audience and wreck necks all around the world.
Zombie Fighter
definitely bring their 'A' game on
Run For Your Life,
the bands debut will kick your ass and just as you're recovering it will run you down with its car. Although this may sound horrible when it's all over you're gonna want the car to back up and repeat the whole process over…and over…and over. The pummeling drums, insane neck breaking riffs, vicious vocals and mind blowing leads will leave your body sore and have you wondering where this band has been your whole life. Fantastic production (done by Brian Westbrook of
Lich King
at
PDP Productions
) and phenomenal musicianship will have doing the exact opposite of running for your life. Instead you'll be running towards your stereo to increase the volume, because an album like
Run For Your Life
can never be blasted loud enough!
You're gonna want this album, in fact you need it. To get your copy visit the official Zombie Fighter BigCartel Store and be sure to check the band out on Facebook to stay up to date on all things Zombie Fighter!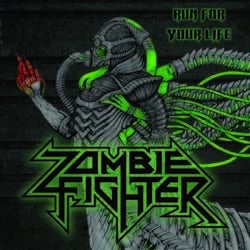 Zombie Fighter will be having a CD release party on June 2nd and you should definitely attend if you're in the area. For more information on the show you can check out the event page here.