Hailing from Sweden Immaculate is a band that knows how to rip. In 2007 the band released their debut album through Witches Brew Records entitled "Thrash, Kill 'n' Destroy." A few short years later the band struck once again with their second full length album "Atheist Crusade." This time Immaculate teamed up with Storm Spell Records proving that it doesn't matter what label the band's on, Immaculate bring the shred!
Immaculate's latest slab of thrashy goodness, "Atheist Crusade" is a must hear for any fan of heavy metal. Upon listening to this bands sophomore album two things become evident, the first being that Immaculate have a "traditional" metal influence that the band mixes quite nicely with their thrash influences and the second the members of Immaculate are fans of the old-school!
Similar to their idols Immaculate bombard the listener with neck breaking riffs that are both fast and catchy hell, while simultaneously kicking your ass with drum patterns that hit harder than a freight train and leave you starving for more. Killer bass lines and impressive solos have Immaculate musically sound on this release while lyrics of various topics performed by a glass shattering vocalist are just one more thing that makes this album a must own for headbangers every where.
Bottom Line: With an old-school vibe and a ton of originality Atheist Crusade is a fantastic album that is musically sound and features vocals that are absolutely killer! After listening to this album you may find it difficult to listen to anything else for a while.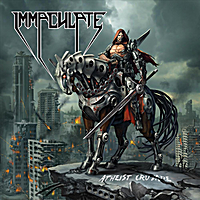 Overall: 95/100


Be sure to check out Immaculate on their official website and over on the bands Facebook Page. You can also purchase Atheist Crusade from Storm Spell Records at this location. Currently the band is at work on their album!